ABOUT THE ARTIST
PAINTINGS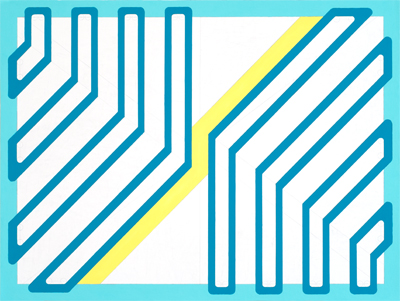 Henry Brown combines mechanical drawings with the painted images they generate. Working from thumbnail sketches Brown draws a full sized schematic for each painting with compass and ruler. Then he redraws the schematic directly on the gessoed canvas and paints the imagery. The drawings remain visible to function as pictorial elements in the finished work. There is an interconnection between Henry Brown's drawings and painted images, yet they exist on two distinct levels.
The mechanical drafting and uniform color painted between the pencil lines appear to be executed in a strict technical manner. Brown's approach is set off against incidents from the artist's hand. Upon closer inspection the process shows stray marks in the knifed finish of the white ground, variations in pencil lines and eccentricities of the painted edges.
Dynamic structures and changing spatial relationships animate Henry Brown's brightly colored paintings. The imagery appears to be fixed spatially, but visual perception triggers sensations of movement. Depth shifts as illusionism destabilizes the paintings' surfaces. The coexistence of a fixed position and a state of change introduces contingency into the realm of geometry. Henry Brown works with an open-ended method of investigation.
EXHIBITIONS
Chromatic Space
Shirley Fiterman Art Center
BMCC, City University of New York
New York, NY
Curated by Jonathan Lippincott
Sept 22 – Nov 5, 2016
Territory
Crush Curatorial
Amagansett, NY
Organized by Henry Brown, Karen Hesse Flatow and Li Trincere
Weekends of June 18/19 and June 25/26, 2016
Also by Appointment
American Abstract Artists 75th Anniversary Print Portfolio (Traveling Exhibition)
Biggin Gallery, Auburn University
Auburn, Alabama
Feb 1 – Mar 4, 2016
Visible Histories
Abrons Art Center at Henry Street Settlement and Brian Morris Gallery
New York, NY
Curated by Maxim Weintraub
Jan 27 – Feb 21, 2016
The Onward of Art
1285 Avenue of the Americas Art Gallery
New York, NY
Curated by Karen Wilkin
Jan 18 – Mar 25, 2016
Sideshow Nation IV: Thru the Rabbit Hole
Sideshow Gallery
Williamsburg, Brooklyn, NY
Jan 9 – Apr 10, 2016