ABOUT THE ARTIST
PAINTINGS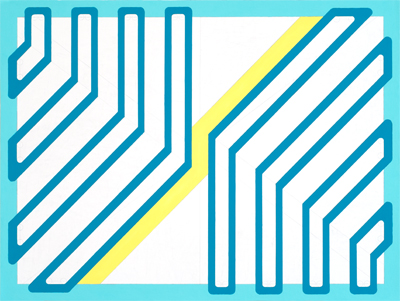 Henry Brown combines mechanical drawings with the painted images they generate. Working from thumbnail sketches Brown draws a full sized schematic for each painting with compass and ruler. Then he redraws the schematic directly on the gessoed canvas and paints the imagery. The drawings remain visible to function as pictorial elements in the finished work. There is an interconnection between Henry Brown's drawings and painted images, yet they exist on two distinct levels.
The mechanical drafting and uniform color painted between the pencil lines appear to be executed in a strict technical manner. Brown's approach is set off against incidents from the artist's hand. Upon closer inspection the process shows stray marks in the knifed finish of the white ground, variations in pencil lines and eccentricities of the painted edges.
Dynamic structures and changing spatial relationships animate Henry Brown's brightly colored paintings. The imagery appears to be fixed spatially, but visual perception triggers sensations of movement. Depth shifts as illusionism destabilizes the paintings' surfaces. The coexistence of a fixed position and a state of change introduces contingency into the realm of geometry. Henry Brown works with an open-ended method of investigation.
EXHIBITIONS
Beyond Black and White
Westbeth Gallery
New York, NY
Organized by Henry Brown and Li Trincere
Jan 6 - 27, 2018
American Abstract Artists 75th Anniversary Print Portfolio (Traveling Exhibition)
Art Gallery, University of Houston - Clear Lake
Houston, TX
Sept 1 – Oct 20, 2017
American Abstract Artists 75th Anniversary Print Portfolio (Traveling Exhibition)
Wrather West Kentucky Museum, Murray State University
Murray, KY
Jan 17 – Feb 24, 2017
CURATORIAL PROJECTS
TERRITORY
Crush Curatorial
Amagansett, Long Island, NY
Organized by Henry Brown, Li Trincere and Karen Hesse Flatow.
Territory was an exhibition of abstraction by artists involved with the art scene on the East End of Long Island. The exhibition title refers to an area of knowledge or experience, the artists' voice in their work, their territory. Territory also has a geographic reference to an area of land with regard to a particular type of activity or characteristic.
PARTICIPATING ARTISTS
Eric Brown, Henry Brown, Amanda Church, Don Christensen, Peter Dayton, Gabriele Evertz, Karen Hesse Flatow, Janet Goleas, Erik Gonzalez, Christian Haub, Charlotte Hallberg, Gregory Johnston, Bill Komoski, Lauren Luloff, Rory MacArthur, Chuck Manion, Lola Montes, Drew Shiflett, Christine Sciulli, Taro Suzuki, Li Trincere, Ryan Wallace, Tad Wiley, Almond Zigmund